4-H Youth & Development
Join 4-H
What is 4-H?
4-H is a Network of Families That Grows Great Kids! 4-H clubs have a mix of teens and younger youth, with a variety of interests and activities. Clubs meet monthly. At the meeting, they make group decisions about community service, hear presentations from guest speakers and other 4-H members, and learn about leadership, citizenship and public speaking.
4-H is a nationwide program. Each of the four H's of the clover represent ways youth can grow and develop.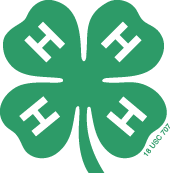 Head, critical thinking, problem solving;
Heart, self-discipline, integrity, communication;
Hands, serving others;
Health, choosing healthy lifestyles.
Joining 4-H Easy!
Find a Club! There are 2 clubs in Clark County, one in Ashland and one in Minneola. For club informationn contact the Clark County Extension Office at (620) 635-2811.
Attend at least one meeting to be sure it is a good fit for your family!
Enroll online at 4-H Online! 🍀
4-H clubs are open to all youth who are residents of Kansas and between the ages of 7 and 19. The 4-H year runs from October 1 until September 30. Youth who turn 7 before January 1 of the current 4-H year may enroll. Youth who turn 19 before January 1 of the current 4-H year are ineligible to enroll.
Returning members should re-enroll by December 31. If you miss this deadline, you will not be able to compete in the county fair and other competitive events.
New families should visit the 4-H club at least once before joining to make sure that the club is a good fit for their family. In order to meet the April1 enrollment deadline, you must visit no later than the January or February club meetings. New members must join by April 1 of the current 4-H year.